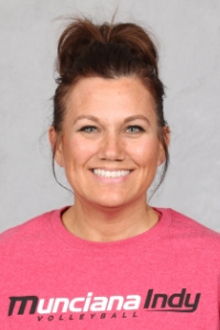 About Kim Baker
11 Years of coaching at Munciana Volleyball Club
Kim played four years of varsity volleyball at Pendleton and six years of club volleyball at Munciana
Former coach at Anderson, Pendleton Heights, and Greenfield Central High Schools, as well as Madison Grant Jr High
Kim studied and played on the volleyball team at IUPUI
Coach Baker is a Doctor of Natural Health at Rivers Edge Natural Health and Wellness in Noblesville and a licensed IHSAA official
Kim is married to her husband, Wes, and together they have 6 children: Phoebe (29), Brian (29), Brady (27), Maddy (25), Peyton (24), and Lindsay (22)
Kim's daughter, Maddy, is also a Munciana coach (Munciana Yorktown Phoenix)
Kim enjoys traveling with her husband and playing and coaching volleyball with her daughter. She loves photography, cooking, flowers, gardening, and spending quality time with her family. Coaching is a passion of hers, and she is grateful to have had so many wonderful coaching opportunities over the years!