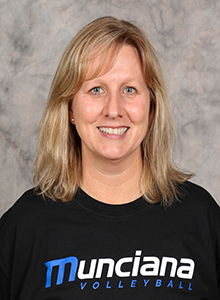 About Leslie Lawson
Former Munciana Coach when she a senior at BSU. Now back again in her first season with Munciana.
Former assistant coach for Ironwood High Peoria AZ, Fort Wayne Snider High School
Former assistant coach Indiana Purdue Fort Wayne Woman's team for two years
Worked summer camps all over country with Arnie and Lloy Ball.
Played at Eastern Kentucky and then transfer and played at Ball State.
Married Husband Brian is a Fire Fighter in Fort Wayne
Two daughters Anna age 13 and Delaney age 12.
Deaf and Hard of Hearing Teacher
Owner of Two Mom's Beef
First Steps Therapist for handicap children and there families.