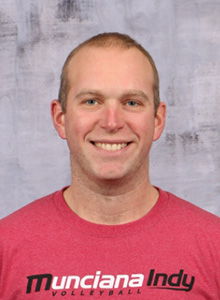 About Matt Gold
Playing Career

Two-year starting setter for Cincinnati Archbishop Moeller High School (2002-2003). Regional honors both years. State runner-up in 2003.
Setter for Cincinnati Attack Volleyball Club (1997-2003)
Four year player Rose-Hulman Institute of Technology Club Volleyball team (2003-2007). Player-coach of team from 2004-2007.
Still a competitive beach and indoor player
Coaching Career
Coached club at COA Volleyball Club in Terre Haute, coaching 16-and-unders (2006-2007).
Varsity assistant coach for Terre Haute South High School (2007).
Coached club at Team Indiana Volleyball Club, coaching 15's and 18's teams. Finished 2nd at AAU nationals in 2008 in 15 Open as an assistant coach with the Evil Pop Tarts. Won multiple tournaments with other teams.
Assistant coach for Lawrence North Men's Volleyball Club (2009-2010). Coached undefeated JV team in 2009. Varsity finished 3rd and 2nd in the state in consecutive years.
Head coach of Lawrence North Men's Volleyball Club (2011-2013). Finished 5th, 9th, and 3rd in the state in consecutive years as the head coach.
Finished 11th in 17 Open as an assistant for Team Indiana 17-1s (2016).
Assistant coach for Munciana Indy 18 Raptors (2019-2020).
Setting specialist for Munciana Indy Boys Volleyball Club (2020-present).
Personal
Graduated from Rose-Hulman Institute of Technology in 2007 (Software Engineering and Mathematics)
Software contractor/consultant with SEP, Inc (2007-present)
Enjoys watching sports, playing golf, and doing yoga, as well as intellectual games, such as poker, sudokus, crossword puzzles, and chess.