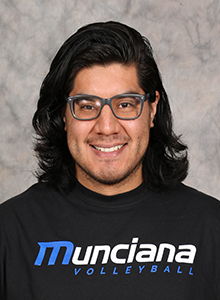 About Victor Gaytan
Coach Gaytan is in his fifth season at Munciana and will be the head coach of the 14 National Tortugas Del Mar.
Currently he is the Coordinator of Operations for the Women's Ball State Volleyball Team.
Former coach at Muncie Central, Pendleton Heights, Cowan and Anderson Highland High Schools.
Won a state championship with Cowan High School.
He is from California and played high school volleyball and club volleyball.
Attended Vincennes University and is currently at Ivy Tech Community College where he would like to transfer to Ball State University.